​South Florida's "hottest" latin band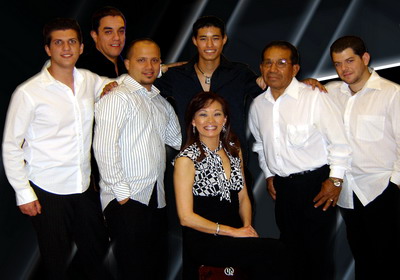 The Tony Succar band has been performing in Miami since 1989. Do to our hard work and devotion, thousands of satisfied clients and we are proud to be part of many people¹s lives, being part of their happy memories and great unforgettable moments. In addition to our expertise in private party¹s, we have also performed in public events in which we¹ve had the honor to share stages with great artists and bands such as KC and the
Sunshine Band, Carlos Oliva y Los Sobrinos del Juez, and La IndiaS

The success of an event depends on the dedication that is given to it. The superior preparation and coordination that we offer is unique and superb. You can count on us.

The musicians in our band are very professional and
virtuosos on their instruments. The sound equipment performed with is top of the line gear to create the best and most enjoyable sound possible. We
arrange a special repertoire for each event. Every event is the most important and the best.

Our repertoire consists of music from all around the world. The group plays a variety of styles from the 1940's to the top hits of today. From disco and
classic rock, to funk and swing. Mixtura is unique and great in their latin sound. Latin not only limiting ourselves in the Caribbean (Salsa/ Cha-Cha/
Merengue/ Bachata/ Bolero/ Conga/ MamboSetc...) but in South America also (Folk and Afro ³Peruvian²/ Tango/ Cumbia/ Valse/ Samba/ Bossanova/ Lambada/
Gaitas/ RancherasSand many moreS)
Depending on each event we can range from 3 to 10 musicians for your needs.