​South Florida MC DJ Julio Loli (DJ Lo) Julio is a very experienced MC, well known for his ability to play a mix of music that gives everyone a chance to get on the dance floor.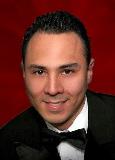 Entertaining South Florida For Over 15 Years, Julio E. Loli is a High Energy Bilingual Entertainer That Really Gets The Party Going. If You Want an Upbeat Event With Non Stop Dancing and Fun, Julio E. Loli Is The Right Choice For Your Next Special Event. DJ LO is one of the most explosive DJ's of the generation Y audience.

Award winning peruvian DJ, DJ LO has performed nation wide and is creating a new standard for DJ's in the entertainment industry. Many entertainment entities across the U.S. are currently using DJ LO's original mixes and remixes.

With a charismatic and explosive showmanship, DJ LO has all the qualities you would expect from a professional DJ and MC. As a creative director and TV show host for Club TV, DJ LO has performed alongside some of the best DJs and entertainment acts. DJ LO's music has been featured in many DJ aficionado websites allowing his music to reach a world wide audience since 2009.