Bradlee Hedrick is an accomplished pianist who has entertained audiences nationwide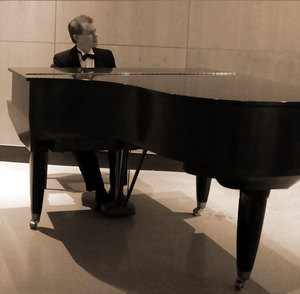 Bradlee Hedrick is an accomplished pianist who has entertained [mostly incidental] audiences nationwide. The inspirations during youth - a television appearance by Victor Borge on The Big Show; and, . . . a piano recital on an episode of Fantasy Island co-titled Concerto Of Death, and virtuosic piano recordings (including those of Dino Kartsonakis and Roger Williams) galvanized Bradlee's interest in the grand, mysterious instrument.

Having been born and raised predominantly in the then British Colony of Hong Kong, the European and passionate Asian influences are felt in Bradlee's delivery. Currently based out of Miami Beach, this fairly progressive pianist was active for seven years in the National Academy of Recording Arts and Sciences, attending The GRAMMY Awards three times. His honors include being one of five National Finalists in the Virginia Beach Pops Concerto Competition, and Third Place nationally in the National Federation of Music Clubs. His education consists of a Bachelor of Music degree in piano performance as a student of the pre-eminent Laurence Morton, and an unfinished Masters Degree. But that doesn't mean he doesn't like simple, organic chords ohn da pianoforte.

Morton, one of the world's most noted piano professors, continues to enjoy eternal life, and since 2002 has been doing so without physical interruption. Bradlee viewed him as a selfless mentor, always nurturing and respecting his students' distinctive artistic character, and spiritual well-being. He is grateful to his parents (who hail from Julian, & Bluefield, West Virginia) for pursuing teachers which made lessons fun; primarily Jule Isabelle Rotta (Bell Studios of Elyria, Ohio), a dynamic pianistic, and morale vitalizing influence during three high school years in Oberlin, Ohio. Jule also encouraged his parents in their budget for the purchase of a restored baby grand, something that was most captivating for the boy. Later, via the coordination of Laurence Morton, Bradlee was able to gain pivotal coaching at the National Music Camp of Interlochen, Michigan from 20th Century Composer Andrzej Dutkiewicz, and the Armenian Performer Artur Papazian - dubbed "Monster Pianist" by The Washington Post as one of Carnegie Hall's leading, full-house performers and a Bronze Medalist of The Chopin International Competition. Additional highly impactive instruction in arranging & composition was received from Rebecca Bonham and Duane Ream.

On occasion other artists have provided the opportunity to work with them; one of who, George Skaroulis, accrued international distribution, further releasing self-recorded works that topped the charts at record stores in Atlanta, spawning accoladed reviews by publications such as Billboard Magazine.

At the Broward Center For The Performing Arts in South Florida, Bradlee has shared the stage with Richard Warren Rappaport and Nicole Henry. Through the National Association of Campus Stores, he got to "open" for Jamie Lee Curtis and Peter Yarrow (Peter, Paul & Mary).