South Florida's Hot Latin Jazz Guitar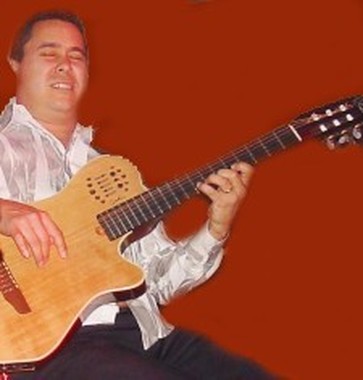 Rolando Grooscors was born in Caracas, Venezuela. At age 10, he started to play the typical Venezuelan stringed instrument called the "cuarto". Then he began to discover the Spanish guitar or "acoustic" guitar as it is also known.

Since he was very young, different types of music influenced him. These include Latin, Brazilian, Jazz, Flamenco and many other styles that contributed to the versatility he displays today.

When he was 14 years old, he moved to Canada where he lived in both Toronto and Ottawa where he began to study classical guitar with Professor Ed Honeywell. But shortly after, he found himself captivated by flamenco and began to take classes with Professor Leopoldo Marti Aguilar for two years after which both of them began performing at different universities and cultural venues in Canada. At 17 years old, he discovered the electric guitar and performed with several rock groups of that time he began experimenting with fusion jazz as well.

His love for Brazilian motivated him to start a project with a Venezuelan musical group called "Kalu" where Brazilian music was infused with Latin and Jazz influences. "Kalu" gave him the opportunity to travel and share the stage with great musicians including the magnifient Cuban pianist, Pepe Valdez, who he met while touring Margarita Island in Venezuela. They began to develop a Jazz/Fusion style heavily influenced by Brazilian music. The experience greatly influenced Rolando's musical development.

Today, Rolando accompanies several artists including "Los Hidalgos", Pavel Nunez, Rayito, "Robert Vilera's Jazz Ensemble" and many more. Rolando completed his first CD named "Reflejos" (Reflections) in which he displays a wide variety of styles and concepts. A second CD is currently in progress.