Ron Fattorusso - HOT Strolling sax player for your events.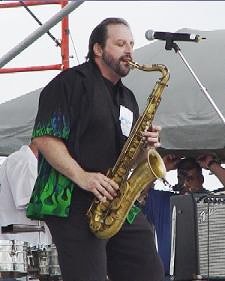 Ron Fattorusso - HOT Strolling sax player for your events. One of the few multi-talented instrumentalists from South Florida who can play each instrument equally well, Ron has been passionately working on his compositions for the last 2 years and the result is one great tune after another on the wonderful smooth jazz CD, Up All Night. Track 3, "I Know You're There," is the next Santana/Europa hit! This song is dedicated to his father and sister who he lost years ago. Ron knows that they will always remain in his heart and in his memories.

Ron is a product of the University of Miami, having majored in jazz performance and music education. Though he started his professional career in 1974 as a multi-instrumentalist (Alto, Tenor and Soprano saxes, flute and clarinet), by 1979 he had played for and performed with such stars as Bing Crosby, Shirley Bassey, Steve Lawrence, Edie Gorme, Hal Linden, Joan Rivers, Mitzi Gaynor, Julio Igesias, Celia Cruz, Rodney Dangerfield, Milton Berle, Henny Youngman, Olga Guillo, Willie Chirino, Lissette, Lola Flores, Iris Chacon, Susy Leman, Robert Carlos, Tony Orlando & Dawn, Vicki Carr, Peter Allen and Eddie Arnold. By the 1980's, he had played back up for Desi Arnez, The Temptations and jazz giants Ira Sullivan, Joe Dirorio and Eddie Daniels. From 1981-83, Ron went on to sell out concert after concert on his tour with El Puma. In 1980, he opened a recording studio in South Florida (Star Track Recording). Having recorded countless talented musicians over a 20 year span, he was able to use his experience and knowledge when applying artistic effort to his first solo jazz cd, Up All Night. Since the early 1990's, Ron has been working with pianist and founder of Secret Formula Records Gary Farr, with whom he performs and records various jazz and commercial CD's.