Tony enthralls all who come to hear him play. Listen to this south florida flamenco guitar. He has his own unique style and sound.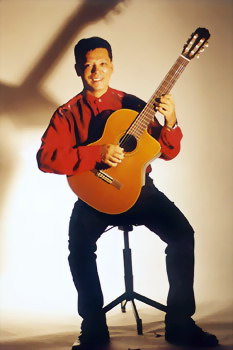 Tony Cruz is a south florida flamenco guitarist that hails from Sao Paulo, Brazil. He started playing guitar at the age of 5 and went to the Brazilian Conservatory and studied classical guitar. His heart wasn't really interested in pursuing the classical style of music, so he started to write his own songs and integrated his classical techniques with the modern songs he was listening to in America. Tony finally made it to our shores in 1982 and began working with some of the most talented local Brazilian musicians and before long he was getting recognition on his own for his own compositions.

He's been steadily working in Miami since he arrived. He has just completed his first major works on a CD titles "SONG FOR HONEY" which has received very high reviews from all who have bought and listened to it. He's currently entertaining an international audience on the famous strip, South Beach, where he enthralls all who come to hear him play. Tony is also an excellent singer with a strong smooth velvety voice. He has his own unique style and sound. On his first CD he fuses his music with the fiery rhythms of his musical Brazilian heritage forged together with Flamenco/Gypsy to form a hypnotic romantic sound. His fingers moving at lightning speed will entrance you. His technique is gentle yet compelling.