Once he enters the room, Al Tulane knows everyone – literally. Launching into his signature song, The Name Song.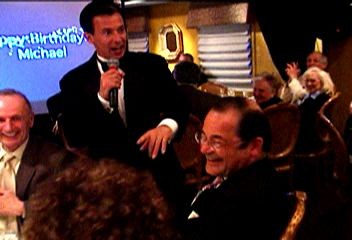 Tulane incorporates the names and some additional facts about practically everyone in the room, having memorized them and their seating arrangements. You and your audience become the stars of the show as Tulane demonstrates his feats of memory to bring audiences together for a hilarious, unforgettable evening.

The Cast:
Al Tulane
Al's musical director and piano accompanist
Our announcer
Your guests

The Scenario – your show will go something like this:At the appropriate moment, the lights go dark and the overture begins. Our announcer welcomes everyone to your event, and then introduces Al Tulane, The Man of a Million Names. Al takes the stage to sing a brief song of welcome, which segues into The Name Song.
Al has previously memorized the names and seating locations of up to 200 of your guests. He goes out into the audience and finds each of them, singing their names and warmly acknowledging each person as he greets them. Al creates a shared feeling of camaraderie and makes every guest feel truly special. As the song ends, he takes his bow and then leaves the room to enthusiastic applause!
Alternatively, Al's performance can segue into…

Al Tulane and The Tributeers
(Please note that The Tributeers are also available as a stand-alone show)
The Cast
Al Tulane
2 additional musical comedy performers with major credits such as the Broadway productions of Les Miz and Phantom
Our musical director/accompanist

The Scenario
We will base the lyrics to your show on information that you give us about your business meeting, product or celebrant (anniversary couple, 50th birthday, retirement, etc.). As an example…

Following The Name Song, Al begins to sing a song about how XYZ Communications has established an automatic tracking system for aircraft using the ABC satellite network for air-to-ground data links. He gets through the first few lines, but appears to be a little confused and overwhelmed by certain facts. A waitress (our actress) is confidently singing along as a spotlight hits her. Al asks her if she understands these facts and she responds with a smile, "Sure I do!" She joins Al, and the two of them launch into a medley of songs that humorously continues to communicate your information.
Our actress develops a frog in her throat and asks Al for something to drink. Al summons the wine captain (our actor) and he comes onstage with a glass of pinot noir for our hoarse performer. Once there, our wine captain is so moved by the proceedings that he also surprises your audience by breaking into a song about XYZ's plans to deploy a group call push-to-talk voice and data service.
Our three performers close the show with a toast to your company's future and a sincerely emotional "Thank You!" to your partners. As the song ends, they take their bows and then leave the stage to enthusiastic applause!